Bangladesh (10 Taka, 1996)
This note was circulated in 1996 to 

commemorate the 
Silver Jubilee of the independence of Bangladesh

.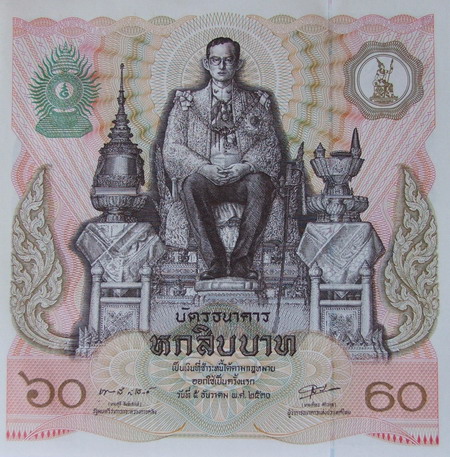 Thailand ( 60 Bhat, 1987), King Bhumibol Adulyadej (1927-)
Commemorates 60th Birthday of King Rama IX of Thailand.
Falkland Islands (5 pounds, 1983)
Commemo
rates 150th Anniversary of British rule.
Australia (10 Dollars, 1988 )
Commemorates Bicentennial of British Settlement.
Cook Islands ( 3 Dollars, 1992 )
The Cook Islands has its share of legends, myths, and folklore. One famous legend that of Ina and the shark is so popular, it was put on the face of bank notes issued to commemorate the 6th festival of Pacific Arts Rarotonga Cook Islands in October of 1992. 
Pakistan (5 Rupees, 1997)
Golden Jubilee of Independence of Pakistan.
Papua New Guinea (2 kina, 1995)
This note was issued on 25th anniversary of independence. Papua 
New Guinea is situated on the north of Australia.
Cuba ( 1 Peso, 2003 ), Jose Marti (1853-1895)
This bill was circulated on 150th birth anniversary of Jose Marti. He was a 
Cuban
 national hero and an important figure in Latin American literature. In his short life he was a poet, an essayist, a journalist, a revolutionary philosopher, a translator, a professor, a publisher, and a political theorist. Through his writings and political activity, he became a symbol for independence against Spain in the 19th century, and is referred to as the "Apostle of Cuban Independence".
Cayman island ( 1 Dollar, 2003 )
500th Anniversary of Discovery of the Island.
Poland (20 Zlotych, 2009), Juliusz Słowacki (1809-1849)
The Polish National Bank has issued a new 20 Zlotych banknote on September 23, 2009 to commemorate the 200th anniversary of the birth of Julius Slowacki. Słowacki was a noted Polish Romantic poet, considered to be one of the "Three Bards" of Polish literature.