Dominican Republic ( 200 Peso 2007 )
Mirabal Sisters

The Mirabals were four sisters who grew up in a city
in the of 
Dominican Republic 
called Salcedo during the era of the dictator Rafael Trujillo. Three of them — Minerva, Patria, and
Maria Teresa — were killed by Trujillo's henchmen for their involvement in efforts to overthrow the fascist government. The surviving sister, Belgica (known as Dede), lives in Salcedo, tending the museum in Ojo de Agua that commemorates her sisters. The Mirabal sisters, now national heroines of the Dominican Republic, have been immortalized in poem, fiction, art, and even with an international day dedicated to them.
Poland (500 Zlotych,1979), Tadeusz Kosciuszko (1746-1817)
Hero of America and Poland
Kosciuszko was a skilled engineer who came to offer services to the American colonies in their struggle for independence in 1776. He 
was commissioned as Colonel of Engineers by the Continental Congress and began his outstanding service of fortifying battle sites, many of which became turning points in America's fight for independen. When
 he was transferred to New York, he helped with fortifications along the Hudson and planned the defense for Saratoga. In 1778, Kosciuszko was made chief engineer of West Point, New Yor
k. In 1783, Kosciuszko was appointed Brigadier General and was awarded the Cincinnati Order Medal by General George Washington, Commander-in-Chief of the Continental Army. Washington also presented Kosciuszko with two pistols and
a sword as gifts for his outstanding service to America. Kosciuszko returned to Poland in 1784 to help his own country.
Jamaica ( 500 Dollars, 1998 ), Nanny of the Maroons (1700 - 1750)
Nanny of the Maroons
Nanny was born in Africa. She was brought to Jamaica as a slave                 
from the Ashanti tribe in West Africa. Nanny is known to the Maroons of today as "Granny Nanny". The Ashanti tribe was one of the powerful tribes in West Africa. They were well trained in fighting battles. Their women were greatly respected. When Nanny arrived in Jamaica, rebellion against slavery was going on. The Maroon villages were the strongest of these rebel town. They were well organized and defended. 
Soon after arriving in Jamaica, Nanny and her five brothers escaped from slavery. By 1720 Nanny had taken full control of the Blue Mountain Rebel Town. It was renamed Nanny Town. Nanny Town was well defended against British attack. Nanny can be described as a military genius. She led over 800 free Africans for over 50 years. and  helped to plan ways for them to remain free. Nanny had a very good knowledge of herbs. who was both a nurse and a spiritual leader.
Columbia (10000 Pesos, 2001), Policarpa Salavarrieta (1795-1817)
A Young Woman sacrificed her life for freedom
Her parents were poor and belonged to the lower class people in Columbia. She and her brothers were enthusiastic revolutionaries and wanted to free Columbia from Spanish domination. In late 1816 she trained herself as a seamstress, found work in the houses of Spanish royalist women in Bogotá, passing on informations to the rebels and setting up a network of contacts and safe routes. She was discovered, captured and shot in the public square as a republican agent in November 1817. She was shot together eight of her companions. Before she was killed she made an impassion ate plea to the crowed that inspired the people with revolutionary fervor.
New Zealand (5 Dollars, 1999), Sir Edmund Hillary (1919 – 2008)
Most rugged outdoors man on paper money
Sir Edmund Hillary, the most rugged outdoors man on the paper money with his crinkled eyes, windblown hair, and open throated shirts casually askew-even the color suggests the lifelong tan only acquired by someone who at thirty three was the first to stand on the top of Mount Everest in 1953, who led the first successful expedition to cross Antarctica via the South Pole in 1958, and who climbed to the source of the Ganges River in the Himalayas in 1977. His first occupation was as a beekeeper.
Indonesia (10000 Rupiah, 1998), Tjut Nyak Dhien (1848 – 1908)
Tjut Nyak Dhien

The daughter of a chieftain, Tjut Nyak Dhien joined fight against the Dutch invaders in 1875. Her first husband fell in battle, and she remarried. When her second husband also died fighting, she continued the struggle with her children. After six years in the jungle, she was captured by the Dutch and exiled to West Java where she passed away in 1906. 

Dhien had fought the Dutch from the jungle for 25 years.

Tjut Nyak Dhien is recognized as one of the National Warriors of Indonesia.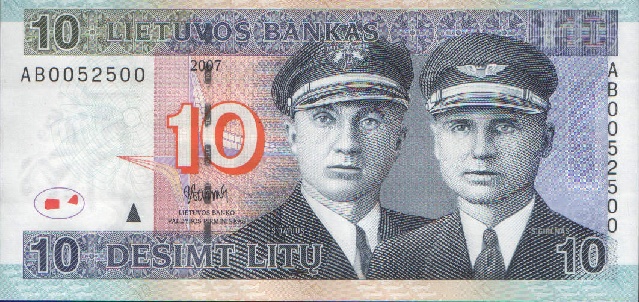 Lithuania (10 Litu, 2007)
Lithuanian national heroes

Darius and Girenas were 
Lithuanian
pilots, emigrants to the 
Un
ited States
, who made a significant flight in the 
history of world aviation
.

The aircraft Lituanica took off from New York on July 15, 1933 at 6:24 a.m. for the flight to Kaunas. The both pilots lost their lives in the aircraft crash on the 17th of July, in the areas of Soldin, the current territory of Poland. No one persuasive reason explaining why Lituanica having covered the largest and the most difficult part of the route crashed only 650 kilometres short from the target. The flight across the Atlantic performed by the two brave and devoted sons of the Motherland having no necessary aerial navigation devices, except for compass, was a heroic deed in the aviation history.
After their death, Steponas Darius and Stasys Girenas were been granted with different state awards of the Republic of Lithuania. In commemoration of the flight, postage stamps have been issued, the films Lituanikos sparnai (The Wings of Lituanica) and Skrydis per Atlanta (The Flight Across the Atlantic) produced, a number of books written. This flight is significant for the world aviation due to the fact that the pilots stayed airborne for 37 hours and 11 minutes and managed 6411 kilometres. Lituanica opened wider way for airmail between the continents of America and Europe.
Peru (10 Nuevos Soles, 2001), Jose Abelardo Quinones Gonzales (1914-1941)
A national war hero
In 1941 a short, bloody border war broke out between Peru and Ecuador. Jose Abelardo Quinones Gonzales(was killed on July 23, 1941 in a mission attacking troops from Ecuador that had entered Peru.  He was only 21 year old Peruvian army aviator. As an honor to Jose Quinones; July 23rd is now designated as the Peruvian Air Forces Day which is commemorated on this bill.
Jamaica (2 Dollars 1989), Paul Bogle (1822-1865)
Jamaica's national hero

Paul
Bogle was a Baptist Deacon and a Jamaican rebel. In 1865 he led a protest march against poverty and injustice. In a violent confrontation many protesters were killed. Bogle was captured and hanged by the British authorities.
Sierra Leone (1,000 Leones, 2003), Bai Bureh (1840-1908)
As a young man, Bai Bureh attended a training school for warriors. He became a famous war leader in the 1860s and 1870s. In 1886, He was crowned ruler of Kasseh, a small kingdom near Port Loko. He organized large-scale guerilla revolt against the British. The British captured him in 1898 and sent him into exile. He was reinstated as a Chief of Kasseh in 1905.
Bulgaria (1000 Leva, 1994), Vassil Levski (1837-1873)
Hero and leader of the national revolutionary movement :

Levski was a life-long revolutionary. He fought to free Bulgaria from the Ottoman Empire. He was arrested by the Turkish authorities, sentenced and hanged in 1873. He is

 the most unselfish, valorous, and fascinating person in the Bulgarian history. All Bulgarians have loved and love him unconditionally.
Libya (10 Dinarss, 1991), Omar El Mukhtar (1863-1932)
Libyan national hero
El-Mukhtar fought a long and unequal struggle against the Italian occupiers. He was captured in 1932 after the fall of the Koufra oasis, and was hanged in public.